What is EB-5?
The United States Congress created the EB-5 program in the early 1990's to stimulate the U.S. economy through job creation and capital investment by foreign investors. This program allows foreign investors to obtain permanent residency status for themselves and their immediate family members by investing either $1 million or $500,000 in a "new commercial enterprise" that creates at least 10 new, full-time jobs for U.S. workers. The United States Citizenship and Immigration Services (USCIS) oversees and regulates the program.
EB-5 stands for Employment-Based Visa #5
What is TMARC?
The Mid-American Regional Center (TMARC) has the experience, knowledge and relationships to handle the entire EB-5 process, assisting both foreign investors and recipient businesses. Unlike many other regional centers whose managers are inexperienced in regulatory environments, TMARC's management has the experience to successfully navigate the complexities involved in every EB-5 transaction and related matters.
How does it work?
EB-5 Formula
$1 million (or $500,000) invested = at least 10 new jobs created = one visa
New jobs must generally be full-time, which is defined as 35 hours per week. Workers must be U.S. citizens, permanent residents or otherwise authorized to work in the United States, but they cannot include the investor or his or her family members. Construction jobs count toward the requirement under certain circumstances.
There are several ways to count jobs toward the minimum threshold requirement:
Direct jobs – Direct employees of the commercial enterprise receiving EB-5 financing.
Indirect jobs – Consequential jobs created as a result of the investment (e.g., suppliers to the commercial enterprise receiving EB-5 financing).
Induced jobs – Jobs created by spinoff economic activity (e.g., increased spending by direct or indirect employees at other businesses in the community).
Note, however, that indirect and induced jobs may only be counted if the commercial enterprise is affiliated with a regional center, such as TMARC, and is approved by the USCIS.
A regional center is an economic development organization approved by the USCIS that connects foreign investors to U.S. business opportunities in need of financing. The regional center facilitates the approval of projects with the USCIS by providing the economic analyses and business plans to demonstrate the feasibility of projects and sufficient job creation. The regional center oversees the creation and ongoing administration of projects under the EB-5 program, assists foreign investors with their applications for permanent residency, and ensures that all requirements of the EB-5 program are met. TMARC was officially approved as a USCIS regional center on June 3, 2014.
A foreign investor must invest in a new commercial enterprise, which generally means a business that was established after Nov. 29, 1990, but can also include restructured and expanded businesses under certain circumstances. For example, if the foreign investment creates a 40% increase in the net worth or number of employees of the business, then it would be eligible.
An existing business may qualify as a troubled business for an EB-5 investment if it has been in existence for at least two years and has sustained a one or two year loss of 20% net worth. Preserved jobs in a troubled business count toward the job creation requirements. In practice, the troubled business standard has not been used much in the EB-5 program because of foreign investors' reluctance to participate in risky investments.
A foreign investor must also be actively involved in the management of the business, whether day-to-day or through policy. Foreign investors have rights similar to those of limited partners in a limited partnership.
Why Participate?
---
U.S. BUSINESS SEEKING FINANCING
Favorable terms
Because a foreign investor's main objective is obtaining a permanent green card/visa rather than making an optimal return on investment, most deals can be structured with economics that are more favorable than conventional financing.
Flexible structure
For the same reasons, the investment typically can be structured to provide for deferred payments of principal, interest-only or other favorable payment terms.
Regional center support
The regional center will handle all of the interaction with the USCIS, including the submission of required applications and documentation, in an effort to minimize disruption to the U.S. business.
---
FOREIGN INVESTORS
Foreign investors primarily seek permanent green cards/visas for themselves and their immediate family members. The EB-5 program provides them with an opportunity to enter the U.S. when all other doors may be closed.
Path to Immigration
Due to the relatively complicated USCIS regulations, compliance is crucial for foreign investors. TMARC's primary objective is to present foreign investors with outstanding projects that will create the requisite number of new jobs so that the foreign investors may obtain their desired visa. TMARC also assists foreign investors with compliance by preparing and filing the appropriate USCIS forms.
Projects
Although foreign investors' capital must be "at risk," investors typically seek "safe" projects that are likely to return their investment. TMARC seeks to present foreign investors with projects that are appropriate for their risk tolerance and desired job creation.
Geography
A foreign investor does not have to live where his or her investment is made. The foreign investor may live anywhere in the U.S.
EB-5 Transaction Structure
The USCIS generally allows for EB-5 investments to be structured in any manner, including debt, equity or a combination of both. Foreign investors may invest directly in the job-creating enterprise or indirectly in a regional center-controlled entity that then provides the financing. Most EB-5 transactions are structured as "deeply subordinated" debt, as follows:
---
INDIRECT INVESTMENT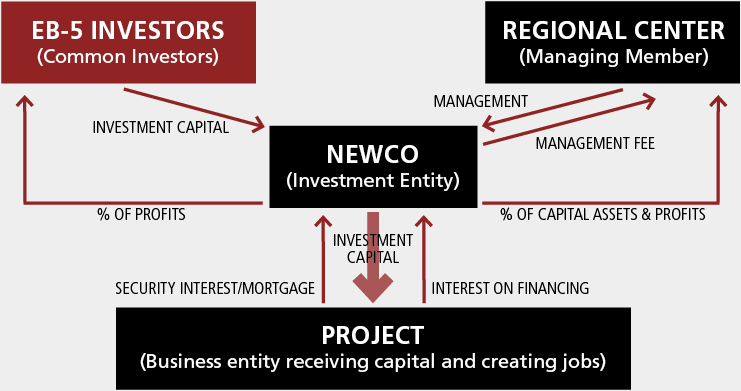 ---
DIRECT INVESTMENT

Typical Investor Timeline
Job creation must be met at the I-829 filing, within 2 ½ years from I-526 approval.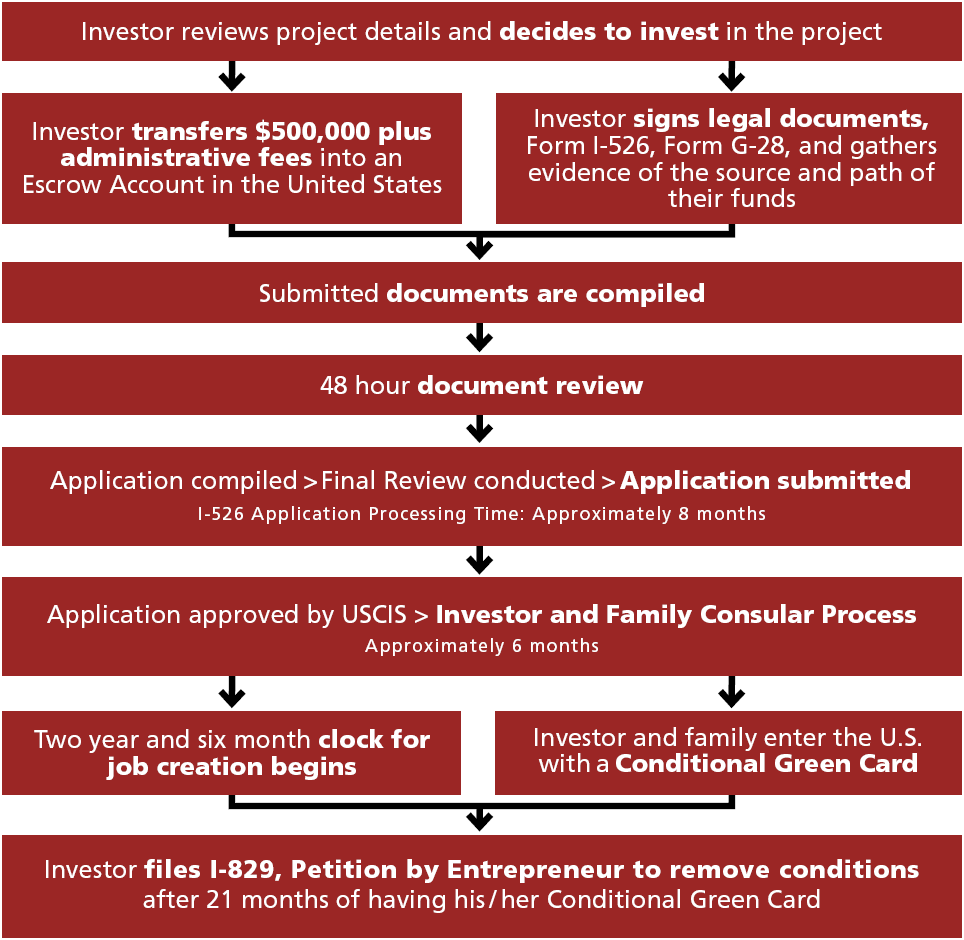 Frequently Asked Questions
Note
Most businesses receive bridge financing before they receive EB-5 financing. Because EB-5 takes a relatively long time to obtain, the USCIS has allowed - and most project borrowers obtain - other financing in advance of obtaining EB-5 financing to "bridge" the project. This financing enables the business to start its project and pursue EB-5 financing at the same time.
Contact Us
Christine Birch
The Mid-American Regional Center
One Indiana Square, Suite 3500
Indianapolis, IN 46204
Phone: (317) 713-3433
Fax: (317) 713-3699